It's nearly time to start thinking about Christmas and you can guarantee that there'll be at least one person who will prove to be a problem in the gift department. Rather than having to scour the shops and frantically search online, consumer review site Reevoo.com has done the hard work for you. For the next few weeks up until Christmas, Reevoo will be suggesting gift ideas for all types of different people to help you out during the festive season.
This week, Reevoo has a selection of gifts for teenage boys. Everybody's covered from sporty types to those who like gadgets so you can sit back and be gift-inspired: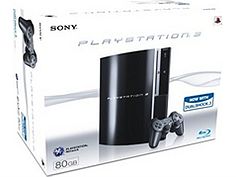 PlayStation 3
For the music lover - Everyone loves music. Get them an MP3 player and they can take music with them wherever they go. The top rated MP3 player on Reevoo at the moment is the 8GB iPod Touch. It's currently around £100. If you were looking to spend a little less than that, the second highest rated player is the £70 Sony NWZA816 4GB. And for a complete bargain buy, grab some CDs. Prices start from as little at £2.
For the gamer – Why not go for a games console like the PlayStation 3 (£289)? If they already have a console, they might like a gaming chair (£100). It's comfortable for extended gaming sessions and you can feel the action through it. It can also be used to listen to music and watch films. There are also lots of console accessories, like this PS3 charging station for £15. For smaller gifts, you could go for a video game (prices start at £2).
For Mr Sociable – A mobile phone so that they can keep in contact with all their mates. For a phone packed full of features, how about the Nokia N95 or N96? Or for a more classy option, how about the Samsung Tocco or the new iPhone? (All phone prices vary according to contract)
For the sporty ones – Some tickets to a football or rugby match will make a great gift. For something more original, why not try this Garmin Forerunner 405 (£169) GPS-enabled sport watch, which tracks your training and sends the data to your computer or for trips to the coast this fishing starter kit (£32)?
For gadgety types - A Wind-Up Torch with Mobile Phone Charger (£7) or some travel speakers for your iPod (£9).
And for the boy that has everything? - Give them this Sonic Bomb Alarm Clock (£24) – guaranteed to wake the laziest of teenagers.
Some great ideas that will hopefully help you on your way to a more stress-free Christmas. All of these products are rated and reviewed on Reevoo by shoppers who have genuinely bought the products. You'll also find images and a list of features, plus price comparison from over 100 UK retailers to make sure you get the best deal on the internet.
For more gift ideas, see Reevoo's blog Decide What to Buy.
-ENDS-
Shoppers can keep up-to-date on the latest consumer news and reviews on Reevoo's blog at www.decidewhattobuy.com.
When shoppers buy goods online from any of Reevoo's 55 retail partners, including Woolworths, Currys, Dixons and the Carphone Warehouse, they are asked to rate their purchases. Their comments – good, bad or indifferent – are then published on both the e-tailers' websites and on www.reevoo.com.
More information:
Lauren Wood/Danielle Cook
Reevoo@noiseworks.com
01628 628080