telent will renew the communication systems across St Pancras International, Stratford International, Ashford and Ebbsfleet stations
Warwick, 22 November – telent Technology Services Ltd (telent), the UK's leading mission-critical network solutions provider, today announced it has been successful in securing the HS1 SCSR contract to upgrade the network infrastructure for High Speed 1 (HS1) stations.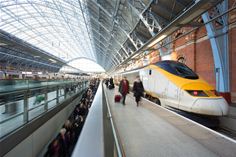 St. Pancras
Supported by Fourway Communications Ltd, telent will be replacing life-expired assets across the HS1 station estate as well as ensuring the systems meet current industry standards, as the stations move to an IP-enabled infrastructure.
The project will include the complete renewal of the CCTV system and cameras, customer information systems, public address systems, help points and emergency access control systems. A seamless switchover is key to the project as stations will remain fully open to the public throughout the upgrade works.
"Building on our existing work with HS1, drawing on our expertise and the key partnerships we have developed across the industry, we will be rolling out a solution which will see the HS1 station comms infrastructure future-proofed for years to come," said Scott Burt, programme director at telent.
Digital transformation at these stations is essential to ensure the smooth running of the HS1 stations. As with everything we do, safety is a priority on this project, ensuring everyone who uses the stations can do so safely and easily."
Objectives for the project include:
Providing a system which meets current and future needs
Reducing obsolescence by replacing existing systems with modern, readily available solutions
Meeting the specific needs of more than 30 stakeholders across all four stations
Steve Dalton, managing director for transport at telent added: "St Pancras has one of the largest CCTV systems in rail. We have a track record for the successful delivery of challenging, large-scale projects, as shown by our ongoing work with Transport for London, Network Rail and Highways England, so we are well placed to deliver what HS1 needs."
As part of the project, telent will deploy its station management system, MICA. The platform, which consolidates the management, monitoring and control of stations into a single control system, utilises Wi-Fi capabilities to enable station staff to access information from anywhere in the station, saving valuable time on the front-line. MICA is already in operation at more than 100 underground and rail stations across the UK.
"This is a challenging project and is a key part of HS1's Protect Strategy. At HS1, we have undertaken a vigorous process to ensure we have appointed a world class Systems Delivery Integrator to provide design, build and installation services, ensuring there is a cultural and behavioural harmony across our values," said Owen Virrill, HS1 senior project manager.
For further information, please visit www.telent.com.
-ENDS-
About telent
Dedicated to defining the ever-changing digital landscape, telent designs and delivers solutions and services that enable organisations to create, improve and maintain their mission critical communications networks.
Vital in the effective operation of the nation's infrastructure and at the heart of many of the UK's and Ireland's best-known brands, telent operates within various industry sectors, including Transport, Service Provider, Public Safety, Defence, Government/Public Services and Enterprise.
telent's industry expertise and professionalism make the company a partner of choice for organisations at the forefront of the digital revolution. telent was recently appointed as the new supplier to Highways England to operate and manage the National Roads Telecommunications Service, a vital component of the UK's critical national infrastructure.
Clients include Highways England, Transport for London, Kent County Council, West Sussex County Council, Gloucestershire County Council, Oxfordshire County Council, Sandwell Metropolitan Borough Council, City of Stoke-on-Trent Council, Network Rail, BAE Systems, BT, London Ambulance Service, Merseyside Fire & Rescue, RNLI, Maritime Coastguard Agency, Metropolitan Police, Sky, and Virgin Media.
Additional information can be found at www.telent.com
Twitter: @telent_UK
LinkedIn: www.linkedin.com/company/telent
Media Contact
Proactive PR
Tel: +44 1636 704888
Email: telent@proactive-pr.com