Work was carried out at four stadiums ahead of the ICC Cricket World Cup 2019
Warwick, UK, 3 September 2019: telent Technology Services Ltd (telent), a leading UK technology and network services company, has delivered high-density public Wi-Fi to Old Trafford, the venue for the next Ashes Test Match.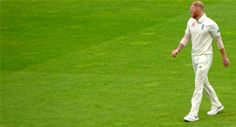 Ben Stokes at the Third Ashes Test Match
Sky, Europe's leading media and entertainment company and number one Wi-Fi in Stadia provider in the UK, chose telent as its partner to upgrade the legacy Wi-Fi infrastructure for hundreds of thousands of fans at the cricket grounds in time for the International Cricket Council (ICC) Cricket World Cup 2019. The project saw telent complete the design and deployment of cabling, switches and access points for the Sky Wi-Fi solution, following an agreement between Sky UK with the English and Wales Cricket Board (ECB).
Fans will enjoy the enhanced Wi-Fi experience at the fourth Ashes Test Match, which will be taking place at Old Trafford from September 4th to 8th. Under the contract, deployments were also completed at Durham, Trent Bridge, in Nottinghamshire, and the Bristol County Ground in addition to Old Trafford. Further upgrades are set to be completed at additional cricket grounds across the UK, with telent responsible for surveying the grounds, designing and installing the networks.
"The Cricket World Cup is one of the biggest events in the sport and saw thousands of fans from across the globe gather at a number of stadiums in the UK," said Chris Weeden, Sales Director – Groups at Sky UK. "With fans who attended the cricket matches wanting to share every moment, whether it be by live streaming on social media or downloading matchday-related content, a seamless user experience is a top priority for the ECB. We chose to work with telent as the team has a proven track record of delivering the reliable, high-quality, end-to-end service at the scale required, in a timely manner."
The project is the latest win in the sporting arena for telent, which has also delivered a new Wi-Fi network for a Premier League Football Club in London to enhance supporters' experience on matchdays. The Wi-Fi upgrade was integrated with the club's existing core network and legacy Wi-Fi infrastructure which had become unfit-for-purpose. telent has also provided the 4G coverage for a major national sporting venue, which hosted a world title boxing match and provided unrestricted access for attendees.
Shani Latif, Sales Director at telent, said: "As a big cricket fan I am delighted that telent has delivered and enhanced the Wi-Fi experience for fans across the country, complementing England's thrilling brand of cricket from the World Cup and The Ashes series so far! We have unique expertise in delivering secure and reliable Wi-Fi infrastructures even in the most challenging environments and can deploy robust network architecture cost-effectively and quickly to upgrade sports venues' Wi-Fi, meeting strict project deadlines and ensuring fans enjoy the ultimate user experience."
telent's work on stadium Wi-Fi builds on its strong reputation for delivering Wi-Fi in mission critical environments, with other customers including major rail stations and the NHS.
For more information about telent's latest work, please see: https://telent.com/.
- ENDS -
About telent
Dedicated to defining the ever-changing digital landscape, telent designs and delivers solutions and services that enable organisations to create, improve and maintain their mission critical communications networks.
Vital in the effective operation of the nation's infrastructure and at the heart of many of the UK's and Ireland's best-known brands, telent operates within various industry sectors, including Transport, Service Provider, Public Safety, Defence, Government/Public Services and Enterprise.
telent's industry expertise and professionalism make the company a partner of choice for organisations at the forefront of the digital revolution. telent was recently appointed as the new supplier to Highways England to operate and manage the National Roads Telecommunications Service, a vital component of the UK's critical national infrastructure.
Clients include Highways England, Transport for London, Kent County Council, West Sussex County Council, Gloucestershire County Council, Network Rail, BAE Systems, BT, Interoute, London Ambulance Service, Merseyside Fire & Rescue, RNLI, Maritime Coast Guard Agency, Metropolitan Police, Sky, and Virgin Media.
Additional information can be found at www.telent.com.

Twitter: @telent_UK
LinkedIn: www.linkedin.com/company/telent
Media Contact
Proactive PR
Tel: +44 1636 704888
Email: telent@proactive-pr.com