Cambridge, UK, 17th September 2012
Cambridge based Telgenco has launched a new DC generator targeted specifically for telecoms base station sites. "The Quiet48-7 genset has a number of features that make it ideally suited for today's more power efficient single tenant and multi-tenant base station sites" said Company CEO Simon Albury.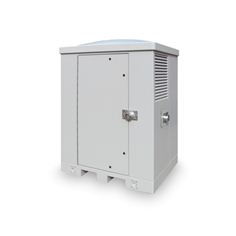 Telgenco 7kW
Many operators have led the drive towards power efficiency by installing new base station equipment that utilises free cooling and high efficiency power amplifiers. This does away with the need for power hungry air conditioning systems. Where sites require generators for standby or primary power, it makes sense to also replace oversized legacy AC generators with smaller more efficient DC generators, to further reduce fuel consumption and operating costs. "Based on real world operator measurements even a 3 sector 6,6,6 configuration site is now consuming just over 55 Amps of DC power, the 140 Amp output comfortably provides enough output for two such sites with extra headroom for recharging the battery bank." said Mr Albury.
In common with other Telgenco products, the generator is remotely managed and monitored, reducing site visits and ensuring industry leading levels of uptime. The generator incorporates its own internal battery bank and bunded fuel tank. It directly monitors the voltage and temperature of the base station battery bank and its own internal bank and uses algorithms to control the charging voltage to protect the battery cells. DC generators negate the need for expensive and sometimes unreliable automatic transfer switches (ATSs) by starting and providing power only when required, based on battery voltage.
Telgenco is part of Controllis Limited, the Controllis development team has a background in telecommunications, power generation and defence sectors. The company, founded in 2008, is privately owned and funded by the management team, a number of private investors and Cambridge based Martlet.
Ends
www.telgenco.com