PocketGPSworld.com launches its CamerAlert app
London, 18th June 2010 - iPhone users can now have access to the best speed camera protection via their mobile devices for less than the cost of a chocolate bar, with the launch of 'CamerAlert' from PocketGPSworld.com.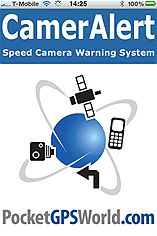 CamerAlert image
The new iPhone app, available from the iTunes Appstore, provides a speed and red light camera warning system that alerts drivers to camera locations and speed limits as they approach, based on the world renowned PocketGPSWorld.com Speed Camera Database and serve as a useful safety aid.
Uniquely, CamerAlert also clearly displays the driver's average speed when they are in an area of average speed cameras, ensuring they are aware of their speed between each camera in the zone. It also reduces the number of 'false alerts' received by drivers by only identifying cameras that monitor their direction of travel.
CamerAlert is easy to use and overlays the camera data on the in-built iPhone map, showing the location, type and distance to the camera. The audible and visual warnings provide full coverage of fixed (including Gatso and Truvelo), mobile (Safety Camera Partnership vans and hand-held laser), red-light, 'redspeed' (combined red-light and speed), and SPECS (average speed) cameras.
CamerAlert is available direct from the iTunes Appstore (http://itunes.apple.com/gb/app/cameralert/id336238843?mt=8) for £0.59, which includes one free database update. To continue receiving database updates users can subscribe to the service via the CamerAlert application or via the web at http://www.pocketgpsworld.com/subscription.php. The subscription can be used on other GPS devices as well as the iPhone (maximum of three devices). Existing PocketGPSWorld.com subscribers can use their £19.99 annual membership to keep the camera data up to date by linking their member details in the app.
[Ends]
For further information, or images please contact:
Candid Communications
Catherine on 08712 375118 or email catherine@candidcomms.com
Notes to Editors:
About PocketGPSWorld.Com Ltd
Founded in 2002, PocketGPSWorld.com is one of the top GPS web-sites on the internet. With GPS news, reviews and forums (with a membership of over 315,000) it is a one stop GPS/SatNav resource on the web and a respected commentator on the GPS market. The PocketGPSWorld.com speed camera database is published in a wide variety of formats suitable for all mainstream satnav devices and has earned a reputation for accuracy and quality unsurpassed by any other. The data is licensed by many companies, manufacturers and publishers.