Throughout the summer the British Army is holding a series of live interactive events which will allow the public to put their Army skills to the test as never before.  Showcased around the country, these live experiences comprising of state-of-the-art 3D virtual technology and manned by real Soldiers will bring to life 'Start Thinking Soldier'- a groundbreaking initiative launched by the Army in April which first gave the public a chance to gain personal insight by participating in a series of online missions.
The events will provide a unique opportunity for individuals to receive valuable personal insights as they are guided through five virtual challenges, requiring key Army proficiencies including physical fitness, mental agility, problem solving, observation, leadership, team building and decision making. Performance will be logged via RFID (Radio Frequency Identification) wrist bands and attendees will receive a debrief post the completion of the tasks from Army personnel, giving them valuable feedback on their performance.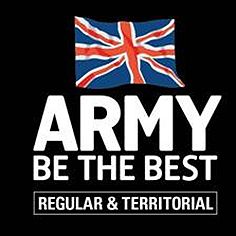 Army Logo
The challenges include:
• 'Run with the Army'- keep pace running through a series of challenges with a virtual squad of      soldiers featuring real-life footage
• 'On Target' - testing out a future weapons system with an innovative 3D head tracking targeting interface
• 'Night Manoeuvres' - taking control of a Challenger II tank at night
• 'Defused' -  defusing unexploded ordnance using a robot device, piloting a UAV over enemy terrain
• 'Viewpoint' - work with the Royal Signals to knock out insurgent communications
The exciting and engaging experience will take place at events across the UK, beginning in June at the following locations:
4 to 6 June - Bellahouston Park, Glasgow
20 June - Marne Barracks, North East
27 to 28 June - Biggin Hill Airshow, Kent
27 to 28 June - Wollaton Hall Gardens & Deer Park, Nottingham
02 to 05 July - Queens Parade, Aldershot
11 to 12 July - Wakestock, Wales
11 to 12 July - Swansea Air Show
18 July - Abbey Fields, Colchester
19 July - Ingleston Show Ground, Edinburgh
6 to 9 August - Ashton Court Estate, Bristol
22 to 23 August - Northern Ireland
The events are specifically targeted at 17 -24 yr olds but are open to all ages and levels of fitness. The public can also test their skills online prior to the event by searching 'Start Thinking Soldier'.