Available in three fashionable 'iPod Nano' colours – black, teal and pink
Bracknell, 21 July 2009 – If you want a simple, convenient way to bring music outside with you this summer, the Memorex MiniMove is the answer. A leap forward from the classic boom box, the MiniMove is a portable, handbag-shaped iPod dock that will bring the music to your party, picnic or trip to the beach.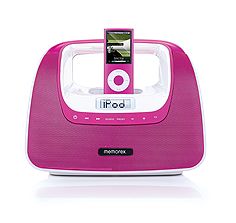 Memorex MiniMove Pink
Available in matching iPod Nano colours - black, teal and pink - it is perfect for accessorising an outfit, completing a look for the bedroom or entertaining your friends and family.  The integrated handle lets you carry your tunes in a smart, simple and fun way. All you have to do is plug in your iPod/iPhone or any other MP3 Player and you can start enjoying the music.
"The MiniMove is all about simplicity. We wanted to enable music to be played anywhere, outside or in the home, and then we wanted to make it look as good as it sounds" said Kasia van Hal, Retail Trade Marketeer at Memorex.
The Memorex MiniMove lets you play and charge all iPods/iPhones with docking compatibility and includes an FM radio with station presets. It also comes with a wireless remote and is equipped with a headphone socket for when you need to keep the noise down. In addition to this the MiniMove offers a choice of power sources; AC/DC for when you are at home, and AA batteries for on the move.
Pricing and Availability
The Memorex MiniMove portable boom box for iPod will be available today at select retailers for a suggested retail price of £59.
About Memorex
Memorex is a subsidiary of Imation Corporation (NYSE: IMN). Millions of households use its audio and video products, MP3 players, digital photograph frames, iPod® accessories and LCD televisions, all with stylish and user-friendly designs.
For more information and/or visual materials, please visit www.memorex.eu.
Contact
For press enquiries, please contact
Your local press contact:
Paul Stallard/ Emma Sinclair/ Luke Davies
Berkeley PR: 01189882992
Email: Imation@berkeleypr.co.uk