World Nestable Transportation Chair Leader Uses Website to Work More Closely with Customers and Users
TORONTO and LONDON – 5 February 2010 – Toronto-based STAXI, the world's leading developer and manufacturer of nestable transportation chairs, today announced that it has re-launched its website (www.staxi.com) that features many new benefits and helpful information. The STAXI website redesign allows STAXI to engage more with its customers and the STAXI community of users. Visitors to the site can view important product information, insightful videos, enlightening articles and press releases, and helpful links to blog and RSS feeds – to keep up to date with the latest news from STAXI.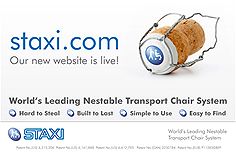 Website
STAXI Head of Marketing, David Gallant, said: "The new STAXI website is more than a web site. Rather, the new STAXI web site is a place where STAXI and its customers and users meet as a community to share ideas and information. The new STAXI web site is a means to better interact with our customers and the people they help with the STAXI mobility solutions.
"STAXI has always prided itself on building solid customer relationships. Our web presence provides the ability to use all means available to connect with them and better understand and serve their needs. This re-modelled web site improves on our unique digital approach by offering more ways to communicate with our STAXI customer-user community."
David Gallant was quick to point out that STAXI's use of advanced digital medium and techniques allows STAXI to remain true to its green commitment by making all product and solution information available digitally instead of through bulk mailings that contribute to forest depletion and increase the carbon footprint, putting undue stress on the ecosystem.
The STAXI is established globally – in use for more than 15 years. Moreover, the STAXI nestable transportation chairs are used successfully and widely in the North America's busiest airports, most prestigious hospitals, and large healthcare systems, and STAXI is now gaining more ground in Europe and other markets. It is the accepted leader in the field of innovative mobility assistance.
David Gallant, said the new STAXI web site reinforces the many STAXI advantages that have led to the company's growing international success:
- Easy to find - spaces saving design - requires 1/3 space of wheelchairs; and, can be set up as a coin-operated service
- Simple to use - ergonomic and highly manoeuvrable - easier to push than regular wheelchairs, passenger transfer made easy and significantly reduces strain and injury to passenger and attendant; STAXI has an automatic braking system (ABS) to prevent injury
- Built to last - Low-maintenance requirement means a high return on investment; and, the comfortable, rugged design provides longer life than normal wheelchairs
- Hard to steal - theft resistant, no removable parts; and, has ample inbuilt storage - 2.5 cubic ft (70 litres) of under-seat cargo space
- Pays for itself - STAXI makes good business sense too, in an era when managers need to make a sound financial case for every dollar, euro, or pound they spend. If something can pay for itself overtime, such as STAXI, then all the better in the long run.
- Ends -
NOTES TO EDITORS
About STAXI
STAXI is a patented, revolutionary transport chair, developed in 1985 by Andrew J Hart in conjunction with Centre for Studies in Aging, Sunnybrook & Women's College Health Sciences (Toronto), initially as a patient transportation solution. STAXI is the leading wheelchair alternative and the best-selling, nestable transport chair in North America.
STAXI provides safe and comfortable temporary transportation for people who would have difficulty walking any considerable distances due to disability, illness or injury. STAXI is ergonomically designed to reduce physical strain and burden for the user.
The award-winning STAXI transport chair is built specifically for large, busy facilities such as airports, hospitals and sporting/entertainment venues. STAXI customers include top hospitals and major airlines and airports in the USA, UK and Europe.
A complete list of STAXI customers can be found on the new STAXI web site www.staxi.com/us_clients.asp.
In addition, a video can be viewed at http://www.staxi.com/staxivideo.asp.
STAXI can instantly replace 90 per cent of wheelchairs today. Moreover, STAXI has the best low-maintenance record for any mobility solution, backed with a three-year unlimited parts warranty. STAXI is difficult to steal by virtue of its nestable design. Hence, STAXI pays for itself over the long life of the transport chair.
Business Contact: David Gallant on +44 (0) 1915 006 129, or davidg@staxi.com
Also consider…
• Receiving Tweets from STAXI1 on Twitter
• Making STAXI your friend on Facebook – STAXI
• Sharing ideas with STAXI and Hospital managers on Linked-In discussion groups
• http://www.youtube.com/watch?v=t7ewzJUM6MQ
# # #
Press Contacts
North America, UK & Continental
Europe: + 49 243 4297 2283
press@elliottpartners.eu