Pants 2.0: The second generation of Reboots Recovery Pants
Schluechtern, 07 March 2023 - Regeneration is highly individual. Not without reason do coaches develop customized regeneration and training plans for each athlete on a team. To make the regenerative compression massage in the Reboots Recovery Pants more individual as well, the leading European supplier of recovery boots and pants is once again shaking up the market with an innovation.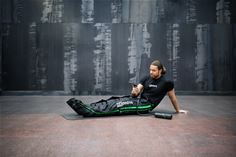 The new Reboots Pants 2.0
One Size never fit so perfectly
The new Reboots Recovery Pants 2.0 are more efficient, effective and stylish than their predecessors and unique on the market. For the first time, the leg circumference can be adjusted to the individual leg anatomy by three separate zippers each for upper and lower leg. The pressure therefore is applied equally to legs of different circumferences and the massage quality is improved. Due to the perfect fit and overlapping air chambers, more massage cycles are possible in the same amount of time. The design gives the Pants 2.0 in carbon look that little extra.
Professionals like Pedri González (soccer), Anne Haug (triathlon) or Leon Vockensperger (snowboarding) already integrated Reboots into their recovery routines and benefit from a shortened recovery time, reduced risk of inflammation, higher mobility and lower power drop.
The new dream team
Reboots Go Lite is quieter, lighter, smaller and smarter than other compression massage devices. Until now, the compact control unit could only be used with Boots. Combined with the new Reboots Pants 2.0, the first 4-chamber-pants on the market offers maximum massage power for legs and glutes at an excellent price-performance ratio.
Pants 2.0 for Reboots Go Lite are available for 349€ at reboots.com. Delivery is possible to all countries within the EU. For more information visit: https://reboots.com/products/reboots-pants-2-0-zubehor.
Press Kit: https://bit.ly/3EIElXj
Georgina Gerasimidis, pr@reboots.com, +4915737949504