New architecture delivers improved user experience, simplified management and performance boost
• User experience now slicker and more intuitive than ever before
• Account management outpaces anything else now on the market
• Application faster than ever before – now native on the handset
• Radically improved call quality to make it what we believe is the best in the market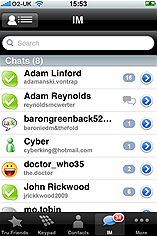 Truphone 3.0 for iPhone IM
LONDON, 28 April 2009 – Truphone today launched Truphone 3.0, a major new upgrade to its mobile VoIP application for the Apple® iPhone™ that dramatically builds upon the success of previous versions of the iPhone's first ever VoIP application, enhancing users' instant messaging and account management experience, faster than ever before, and delivering a new standard for call quality. 
Among the many improvements in Truphone 3.0 are increased ease of use, speed of function response, intuitiveness and simplicity – all designed to enhance the users' experience. Further, Truphone has improved voice quality making the app for the iPhone better than it's ever been before.
Using Truphone's integrated messaging tool that unifies all IM communities in a single place, users can now simply manage all their IM communication from a single page within the application, eliminating the need to constantly jockey between different applications or even different pages within an application. IM services currently supported include Skype, MSN Messenger, AIM, Yahoo! Messenger and Google Talk. 
"Customers tell us they want three things: simplicity, quality and a good deal. Those principles drive our innovation, and Truphone 3.0 delivers on all three. We've dramatically improved our UI and account management tools. We've eliminated the need for compression by utilizing new advances in signal processing, making calls crystal clear. And, just as we always do, Truphone 3.0 sets a new benchmark in terms of quality and performance that competitors will have a tough time matching", said Geraldine Wilson, CEO Truphone.
"With these improvements, we believe Truphone 3.0 is the best application on mobile for our customers' international calling needs as well as staying in touch with all of their IM communities, in or out of Wi-Fi."
Similar improvements to Truphone for the Apple iPod® touch will be announced soon.
What Truphone already does
Free calls when in Wi-Fi to:
• Other Truphone users
• Skype and Google Talk users
Free Instant Messages when in Wi-Fi to:
• Skype
• MSN Messenger
• Google Talk
• Yahoo! Messenger
• AIM
Incredible savings on calls to:
• Call landlines and mobiles around the world at cheap rates
Most importantly all these communication opportunities are also available outside of Wi-Fi by using Truphone Anywhere for calls (charged at a local rate in your home country and then routed over Truphone's network – not for use when roaming), and 3G for Instant Messaging.
Account Management:
• See rates for calls before initiating a call
• Display recent call history, showing the Truphone customer exactly how much a call just cost and how long it lasted with the ability to see a summary of calls made month by month
• Top-up from within the application, without the need for web windows to open separately
• Top-up in a variety of ways: credit card or PayPal
• Change calling tariffs within the application
[ends]
Notes to editors
• Truphone iPhone 3.0 images
• Geraldine Wilson, CEO Truphone photograph
• Truphone press office
• Truphone website
About Truphone
Founded in 2006, Truphone is a global mobile communications provider in the business of innovating how people converse in our globally connected world.  As the industry's first mobile Internet operator, the company makes it easy and affordable for users all over the world to keep in touch with friends, family and business contacts overseas or whilst roaming.  Truphone is the trading name of Software Cellular Network (SCN). SCN is privately owned, funded by both venture capital investment and angel investors.
Important information
Truphone is not a replacement for an ordinary telephone service and emergency calls cannot be made using Truphone. However Truphone does not prevent emergency calls being made via a handset's normal cellular service provider. Truphone cannot advise on the legality of VoIP services in specific territories or jurisdictions. It is the user's responsibility to confirm that use of the Truphone VoIP software and service is permitted in the location in which they use it.
Apple and iPod are trademarks of Apple Inc, registered in the United States and other countries. Google is a trademark of Google Inc. Wi-Fi is a registered trademark of the Wi-Fi Alliance.  Google and Android are trademarks of Google, Inc. Truphone is a trademark of Software Cellular Network Ltd. All other brands, product names, company names, trademarks and service marks are the properties of their respective owners.
Media contact
UK / Europe:
Rose Ross
Both Barrels Communications
+44 208 255 5225
rose@bbcomms.co.uk
Truphone Media Centre
North America:
Sue Huss
Comunicano Inc.
+1 619 379 4396
sue.huss@comunicano.com