- Truphone available in US and UK and at launch in Germany and Austria -
London, January 21, 2009 -- Truphone today announced the immediate free availability of its Truphone Anywhere application for Android-enabled mobile handsets, including the recently released G1 phone. The application is available now as a download on the Android Market in the UK and the US.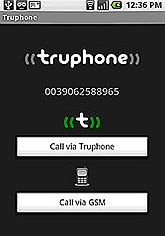 Truphone for Android
To coincide with T-Mobile's announcement earlier this week of the availability of the G1 mobile phone in March 2009, a German version of Truphone Anywhere for Android is available and will be the first native language multi-communications application in the Android Market in Germany and Austria when it launches at CeBIT 2009.
Truphone Anywhere for Android delivers an all-in-one conversations hub that allows customers to take advantage of Truphone's low international call rates, in addition to the cost of a local call*.
As well as being able to make low-cost international voice calls, Truphone customers can also easily Instant Message their friends across a variety of networks including MSN, Yahoo!, Google Talk and Twitter from within one Android application. Customers can also call friends anywhere in the world on Google Talk for the price of a local call, and similarly will soon will be able to Instant Message and call their friends on Skype.
"We want to make it as easy s possible for people to have conversations with their communities around the world in whatever form they choose," said Truphone CEO Geraldine Wilson.
She continued: "We passionately believe in devices like the Android and iPhone which offer easy user access to applications through the Android Market and the App Store in Apple's iTunes. The G1 and the entire Android platform is an obvious and important distribution channel for us."
Truphone is now available on Android, the Apple iPhone, the Apple iPod touch, Blackberry and Nokia devices.
[Ends]
* Operator roaming charges apply if the caller is abroad.
Links and other resources
• Screenshots: Truphone Anywhere on a T-Mobile G1 handset
• Photo: Geraldine Wilson
• Truphone photos (Flickr)
• Truphone press office
• Truphone website
Notes to editors
1. Screenshots: Truphone Anywhere on a T-Mobile G1 handset
2. Truphone Anywhere works in 33 countries around the world, saving Android users from those countries money on international calls made from their home country. The easy-to-use service works alongside domestic service providers, but reduces international call costs to as little as £0.03/$0.06 [UK/RoW] per minute.
3. Unlike a 'calling card', Truphone Anywhere doesn't require a user to remember what to do. Whenever an international number is dialled Truphone Anywhere simply asks whether he/she wants to make a Truphone call. The user simply accepts, and Truphone connects the call.
Media contacts
UK/Europe:
Rose Ross
Both Barrels Communications
+44 (0)208 255 5225
rose@bbcomms.co.uk
North America:
Sue Huss
Comunicano Inc.
+1 619 379 4396
sue.huss@comunicano.com