October 28th 2008 – London, UK - Global mobile network operator Truphone today launched a beta of its mobile internet telephony service, Truphone Anywhere, for BlackBerry® smartphones.  Truphone Anywhere brings simple, easy and cheap international calling to up to 40 million BlackBerry users across the world.
Truphone Anywhere works in 33 countries worldwide.  It saves BlackBerry users from those countries money on the international calls they make from their home country.  The service works alongside domestic service providers, but reduces international call costs to as little as £0.03/$0.06 per minute.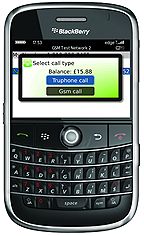 Truphone for the BlackBerry -1
Truphone works with the user to save them money.  Instead of requiring the user to remember what to do, Truphone Anywhere simply asks whether he/she wants to make a Truphone call whenever an international number is dialled.  The user simply accepts, and Truphone connects the call.
"There's no GSM business tariff that gets close to the prices we can offer BlackBerry users with Truphone for international calling," said Geraldine Wilson, new CEO of Truphone.  "And in these days of financial belt-tightening, businesses are looking at every means of cutting costs, which is an opportunity for us.  Truphone is a genuine alternative carrier for international calls, with the potential to reduce annual mobile bills for the largest companies by many millions of dollars," continued Wilson.
Aaron Simpson is the BlackBerry-using chief executive of Quintessentially, a private members' club that provides a 24-hour global concierge service and is part of the world's leading luxury lifestyle group.  He stated: "Quintessentially has offices all around the world and, as CEO, I'm in constant contact with all of them.  I've been using Truphone on my Blackberry and its low call rates have enabled me to make those calls at a fraction of the cost of using my mobile provider."
In technical terms, Truphone Anywhere works by connecting to a local Truphone server, which then connects the long-distance part of the call over the internet.  Because most BlackBerry users are contract customers, the local connection to Truphone is, typically, free because it uses bundled minutes from the customer's usual cellular service provider. 
Truphone for BlackBerry smartphones is available to download for free from www.truphone.com/blackberry.  Alternatively, Handango users may also download Truphone from www.handango.com.  There are no monthly subscriptions or other charges.
[ends]
Media contacts:
UK/Europe: Tim Donnelly Smith, Both Barrels Communications, timds@bbcomms.co.uk, +44 7978 800275
The BlackBerry trademark is owned by Research in Motion Limited and is registered in the United states and may be pending registration in other countries. Truphone is a trademark of Software Cellular Network Limited.  Wi-Fi is a registered trademark of the Wi-Fi Alliance.  All other brands, product names, company names, trademarks and service marks are the properties of their respective owners.
Notes to editors
1. Truphone Anywhere is designed to save users money when making international calls from their home country.  Using the service while abroad may result in higher charges.
2. Truphone Anywhere works using local 'points of presence'.  Truphone has points of presence in 33 countries.
Links and other resources
• Photo: Geraldine Wilson
• Pictures: Truphone on the BlackBerry
• Other Truphone photos (Flickr)
• Truphone press office
• Truphone website
About Truphone
The first true mobile internet network operator, Truphone allows users of Wi-Fi-enabled mobile phones to make and receive regular telephone calls, and to send and receive SMS [text] messages, using only a Wi-Fi connection and the internet. It has already attracted tens of thousands of users in 149 countries.
Truphone is the trading name of Software Cellular Network (SCN). SCN is privately owned, funded by both venture capital investment and angel investors.