Multi-market TV advertising delivery gains UK-based one-stop editing shop
LONDON, 09 March 2010: TSL, a leading multi-platform campaign delivery specialist, today announces its partnership with Adstream, the world leader in advertising workflow, to release unprecedented capacity and expertise for high-volume TV re-versioning customers.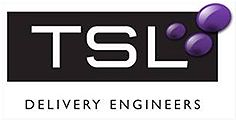 TSL logo
From its purpose-built, large scale editing suites at EPIC studios in Norwich, TSL offers Adstream customers an end-to-end re-versioning and editing solution at cost effective rates, without outsourcing or sub-contracting to third parties.
TSL and Adstream will offer multi-language and multi-format TV re-versioning on a global scale, all through a single, cost effective provider. Staffed by TSL's expert production and quality assurance team, the edit suites at EPIC can handle all types of re-versioning including language dubbing, sub-titles and end-frames to output a complete range of broadcast-ready formats and sizing.
"Our partnership with Adstream means we can now offer our customers a full process of delivering TV ads to multiple countries and TV channels at a fraction of outsider costs. We can eliminate the struggle and high cost of TV re-versioning through multiple companies or even in-house and we can complete the process on a wide scale." says Ivan Skoric, Owner and Managing Director at TSL.
"We are excited to be developing our client reach through our strategic partnering with TSL. Together we can offer a complete re-versioning and delivery package to agencies and brands." says Ian Belzar, Head of UK Sales at Adstream.
Ends
About TSL
TSL engineers marketing programme production and delivery. Its unique business model and approach eliminate the challenges of international campaign production for marketing agencies, their networks and brands.
TSL simplifies complex digital, TV and print campaign delivery through new industry benchmarks for quality and innovation. Its proprietary production processes are founded on the company's broad experience in delivering multi-market campaigns and reflect its mission to continuously improve production performance for clients.
TSL operates from its state-of-the-art production suite in Norwich, offering on-shore, on-demand production expertise with 24/7 availability and complete scalability. TSL works with global agency networks including WPP and Omnicom, and with high-profile brands.
Additional information is available at turnsekskoric.co.uk
About Adstream
Adstream's global media exchange services streamline the advertising pipeline. They integrate workflow, management and distribution services for use across all media from print and publishing to TV and radio.

Adstream has around 1,000 clients in the UK alone, and the largest digital footprint in Europe of any service. In 2009 it managed over two million advertising assets globally. www.adstream.com
For media information, please contact:
Faye Hawkins / Jemma Mahon
020 7268 3436 / 020 7268 3437
tsl@championcomms.com
For information from Adstream, please contact:
ian.belzar@adstream.com