Make free calls to other iPod touch owners: no SIM, no contract, no money
Described by Apple itself as the 'funnest' iPod ever, the iPod touch may now be the 'useful-est' too thanks to FREE software - Truphone for iPod touch - that effectively turns one into a mobile phone.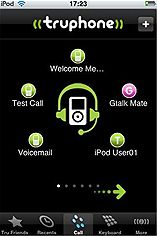 iPod touch screenshot 1
Not only is the software free, but calls made using Truphone's application for the iPod touch are also FREE - just in time to save precious cash when making those Christmas calls to friends and family.
Once installed, and with the addition of microphone adaptor (Truphone microphone adaptor available soon)*, an iPod touch owner can make free calls - no matter where any are in the world - to other iPod touch owners, to customers of Truphone's Internet telephony service, and to users of the Google Talk™ instant messaging service.
Truphone for iPod touch will become a one-stop-shop social hub with the following features coming soon:
• Making and receiving calls to and from landlines (PSTN) at low cost (simply set yourself up with a Truphone account)
• Instant messaging to Skype and MSN (free)
• Calling to Skype users (free)
• Calling to MSN users (free)
• Check and set facilities for Twitter (free)
• Check and set facilities for Facebook (free)
Truphone for iPod touch is easily downloaded from Apple's App Store in exactly the same way as any other iPod touch application.
The software uses the iPod touch's Wi-Fi connection to carry calls over the Internet to its destination.  There is no monthly line rental, no subscription or other hidden charges.
[ends]
* Microphone adaptor accessory currently available at the Apple Store.
Important information
Truphone is not a replacement for an ordinary telephone service and emergency calls cannot be made using Truphone.  Truphone cannot advise on the legality of VoIP [Voice over IP] services in specific territories or jurisdictions. It is the user's responsibility to confirm that use of the Truphone VoIP software and service is permitted in the location in which they use it.
Notes to editors
Links and resources
Truphone for iPod touch: Screenshots
Other Truphone pictures
Truphone videos
Truphone website
Types of FREE call that can be made:
• iPod touch to iPod touch
• iPod touch to Truphone (some Nokia handsets)
• Truphone (same Nokia handsets plus iPhone) to iPod touch
• iPod touch to Google Talk PC user
Requirements
• A second generation iPod touch (i.e. current model)
• A free download of Truphone for iPod touch
• A headset and microphone like those for the iPhone.  These may be bought at high street electronics retailers or from an Apple Store
• Friends also using Truphone!
Making a Truphone call on an iPod touch
This couldn't be simpler: the Truphone application provides you with a virtual keypad that enables you to make the call.
How it works
Truphone works by routing calls over the Internet through Wi-Fi.
# # #
Apple and iPod are trademarks of Apple Inc, registered in the United States and other countries. iPhone is a trademark of Apple Inc. Google Talk is a trademark of Google Inc.  Google Talk is not a telephony service and cannot be used for emergency dialling.  Wi-Fi is a registered trademark of the Wi-Fi Alliance.  Truphone is a trademark of Software Cellular Network Ltd.  All other brands, product names, company names, trademarks and service marks are the properties of their respective owners.
Media contacts:
UK/Europe:
Tim Donnelly Smith
Both Barrels Communications
timds@bbcomms.co.uk
+44 7978 800275
North America:
Sue Huss
Comunicano Inc.
sue.huss@comunicano.com
+1 619 379 4396