National Hydration Survey Uncovers Brits' Surprising Lack of Knowledge and Dangerous Hydration Habits
London – May 13th 2010 – 'Keep It Light!', a new consumer campaign is launched today in light of new research, which has uncovered habitual dehydration among 96% of the UK's office workers. Designed to educate the nation and encourage healthy hydration habits, the campaign is urging people to frequently check the colour of their urine and setting the nation a goal to 'keep it light'.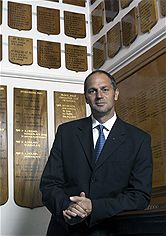 Sir Steve Redgrave
Sir Steve Redgrave, five times Olympic gold medallist, is supporting the campaign and comments, "Improving hydration habits is an easy way to improve performance in everyday life. It's the same message for athletes, taxi drivers, office workers and busy mums alike."
Currently, two in every three Brits are dehydrated and while our bodies offer an accurate visual detector to ascertain hydration levels, namely the colour of our pee, 'Keep It Light!' has found a widespread lack of understanding of what the campaign's leaders claim to be 'simple biology'. Their findings show that 93 percent of office workers either don't check and/or don't know what the colour indicates.
'Keep it Light!' has been launched in response to the shocking results from a workplace hydration survey, which uncovered an overwhelming lack of hydration knowledge in the UK. Funded by Juice Doctor on behalf of 'Keep It Light!', the survey polled over 1,000 UK office workers and questioned them about hydration-related issues, such as their office drinking habits and how they identify and treat dehydration. The results were astounding…
Pop A Pill and Cure All Ills?
A shocking 75 percent of UK office workers cited their first response to a headache as taking headache pills rather than drinking more water.
Feeling a bit parched?
While the majority of office workers (60 percent) believed that they drink enough water, less than 4 percent are actually getting the recommended 7+ glasses of water per day. In fact, almost three-quarters of the respondents admitted to drinking either no water at all or only one to two glasses.
Dip in productivity
The vast majority (83.5 percent) of office workers surveyed admitted that being thirsty affects their productivity at work, yet most continue with poor hydration regimes. Just a 2 percent drop in hydration can lead to a massive 20 percent drop in concentration. The 'Keep It Light!' campaign warns that a habitually dehydrated worker can be wasting up to one day per week in loss of concentration.
Let's shed some light on this…
Our bodies have a natural early warning system for helping us know when we are dehydrated, namely the colour of our pee. However, the survey has shown that less than one-third of people (27.10 percent) admitted to checking the colour of their urine to see if they're dehydrated. Even worse, only 7 percent of them, the more vigilant, said they notice when their urine is an odd colour, and when they do, they don't know what it means.
To spread the 'Keep it Light!' message, Sir Steve Redgrave and Juice Doctor have enlisted the help of some of the UK's leading companies – including Birds Eye, Plantronics, The RNLI and TalkTalk – to help educate the British workforce about hydration by providing their employees with posters, fact sheets and other hydration resources.
The 'Keep It Light!' website includes a downloadable personal "Y'urindicator" chart from Juice Doctor, which is designed as a pee-tone colour chart to help identify the stages of hydration, as well as other free materials to post up in washrooms, rest areas and offices.
- ends -
For further information, including the full results from the Workplace Hydration Survey or images please contact:
Jodie Welton at Connected PR
+44 (0) 7887 780 464
jodie@connectedpr.com
About 'Keep it Light!'
'Keep it Light!' was launched in May 2010 to improve hydration health in the UK. The campaign promotes good hydration habits by providing free educational material to the general public. In addition, 'Keep It Light' targets the Government, healthcare professionals and employers to raise awareness of hydration health with the aim of gaining the same credibility as the 5-A-Day message.
'Keep It Light' worked with Juice Doctor, the everyday hydration drinks brand, by carrying out a nationwide hydration survey. Co-founder of Juice Doctor, Sir Steve Redgrave was stunned by the shocking results, which showed that less than 2 percent of workers in the UK were aware that the colour of their urine indicates levels of hydration, i.e. the darker the colour the more dehydrated we are. In response to these findings, the campaign is challenging the British public to 'keep it (pee colour) light'. A range of educational materials including posters, fact sheets and pee colour-charts has been distributed across the country to help people monitor their hydration levels. These are available for free public download at www.keepitlight.org
Keep it Light! has attracted numerous large employers across the UK who have committed to support the campaign's efforts buy promoting the key messages to their own work forces and encouraging them to "keep it light". These include Birds Eye, Carphone Warehouse, Plantronics, the RNLI and TalkTalk.
About Juice Doctor
Juice Doctor, co-founded by five times Olympic gold medalist Sir Steve Redgrave, was launched in 2006. The company was set up with the clear aim of helping to educate adults and children alike about the benefits of good hydration, and so help tackle the UK's escalating occurrence of health issues arising from poor hydration.
Juice Doctor drinks have taken the science commonly associated with sports drinks and created a range of everyday hydration drinks that target busy people on the go. The drinks, which are naturally isotonic, have been formulated to help restore and maintain the body's natural fluid balance. Instead of using sodium, found in most sports drinks, Juice Doctor uses a potassium hydration booster that has been shown to have a similar effect by regulating the body's ability to retain essential fluid once absorbed.
Each Juice Doctor drink is a carefully measured blend of spring water, fruit juice, beet sugar, natural flavourings and minerals. There are no artificial colourings, no flavourings, no preservatives, no sodium and no sweeteners.
Visit www.juicedoctordrinks.com for more information