To offer fleet and high mileage customers even better support and value for money, Volkswagen Commercial Vehicles has enhanced the three year warranty for its Crafter, the biggest van in the VW range, to an unlimited mileage warranty as standard. 
In addition, with three-years European roadside assistance also included, a full range of Euro V engines available, plus Volkswagen's latest Contract Hire or Finance Lease offers from £299 a month (plus VAT and initial rental), this makes the Crafter one of the most competitive and affordable large vans in the 3,000 kg, 3,500 kg and 5,000 kg GVW sectors.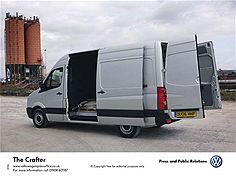 The Volkswagen Crafter
'Improving the Crafter's already excellent warranty and making it easy to afford gives it a competitive edge over its rivals,' said Simon Elliott, Director of Volkswagen Commercial Vehicles.  'It is also typical of how we're trying to help our customers manage their budgets and business in the current economic climate, without resorting to desperate price cutting, distressing the market and harming residual values,' he continued.
The Contract Hire and Finance Lease offers for the Crafter are available from all participating Volkswagen Van Centres until 30 September, ahead of a price rise scheduled for 1 October.
A new range of BlueTDI engines using Volkswagen's BlueMotion Technologies were recently introduced across the Crafter range. These offer improved fuel economy and lower emissions beyond the Euro V standard to officially class the Crafter as an EEV (Enhanced Environmental Vehicle).
The extensive Crafter range offers payloads from 1,011 kg up to 2,603 kg, load volumes from 7.5 m³ up to a massive 17.0 m³.  Retail prices currently range from £17,250 up to £30,510.
Full details of the Crafter and Volkswagen's latest finance offers are available from www.volkswagen-vans.co.uk.
(ends)
About Volkswagen Commercial Vehicles
Volkswagen Commercial Vehicles is a provider of high quality new and used vans.  Our award-winning range includes: the iconic VW Transporter, the California, the Crafter, the Caravelle, the VW Caddy and Caddy Maxi.
Vans for sale such as used California, used Transporter and used Caravelle models can be found through our network of Volkswagen UK Van Centres by visiting www.volkswagen-vans.co.uk/van-centres
Our network of UK van rental centres offers VW van hire services to cover a range of requirements from moving house, to keeping your business on the move.  To find your nearest Volkswagen van hire centre, visit www.volkswagen-vans.co.uk/aftersales/van-rental.
For more information, please visit www.volkswagenpressoffice.co.uk or contact John Rawlings, Press and Public Relations Manager, Volkswagen Commercial Vehicles on 01908 601478, 07872 379544 or john.rawlings@vwcv.co.uk