Unique online news distribution company, webitpr, has appointed distinguished communications and management veteran, David Sheppard, as Non-Executive Chairman to guide and oversee the strategic objectives of the company.
As well as his core duties as a member of the board, David, 61, will work alongside webitpr's Chief Executive, Adam Parker, setting the company's strategic aims and reviewing and managing performance against the company objectives.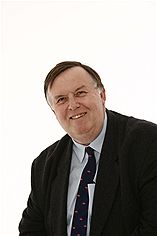 David Sheppard, Chairman, webitpr

With over 30 years management, marketing and communications experience, mostly at board level, David will help hone webitpr's online news release distribution offering to its UK and European based public relations clients.
Over the course of his career David has worked in a wide and diverse range of industries in the UK and US including, telecoms, gas, consumer, chemicals, banking, and aircraft engineering, winning a number of PRCA, BAIE and other awards for his work.
David said, "I have worked with nearly 400 companies during my career; very few have been as good at listening to their customers or as ingenious in responding to their needs as webitpr."
He added, "I am joining the company during a period of significant developments. These will see business communicators being more able to assess the influence of their work, whilst online publishers will be increasingly able to control the relevance of material submitted to them."
David was MD of Telecom Trends International from 1990 until 2001 and publisher of Cable & Telecommunications Engineering (later Broadband) – a quarterly technical magazine - from 1993 until he sold it in 2003.
He founded David Sheppard & Associates (DS&A) in Newcastle in 1980, opening a London Office in 1987. From 1988 to 1991 DS&A with over 30 staff and billings in excess of £3 million was the UK's largest non-London PR consultancy.
Chief Executive of webitpr, Adam Parker, said, "David brings a wealth of experience and expertise to his new role and his track record speaks for itself. I'm delighted to have him on board and look forward to his involvement in taking the company to new heights."
-Ends-
Notes to editors
About webitpr
webitpr has specialised in online news distribution since its inception in 2000 and works on behalf of PR agency and corporate clients throughout the UK and Europe. The company is UK based and distributes news to its large database containing thousands of online media which cover a range of industries including telecoms, IT, Consumer Tech, Gaming, Broadcast, Pharma/Healthcare and Banking and Finance.
It provides a unique service by not only distributing news and multimedia content but by providing clients with the online editorial and blog coverage their news has generated. webitpr was the first UK distribution company to introduce the Social Media News Release – a new kind of press release to cater for the social media world.