London, UK, 24th September, 2009 - BlockMaster (www.blockmastersecurity.com), a provider of secure USB flash drives, today announces it will supply West Midlands Ambulance Service NHS Trust with over 300 SafeSticks to provide complete security for all removable data.
West Midlands Ambulance Service covers a geographical area of approximately 5,000 square miles and serves 5.3 million people living in Shropshire, Herefordshire, Worcestershire, Coventry, Warwickshire, Staffordshire and Birmingham and the Black Country. The Trust has a total number of 3,300 employees, 58 ambulance stations and uses 864 vehicles.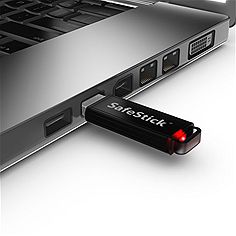 SafeStick
It will be using the SafeSticks to provide all members of staff, wishing to transport data, with complete security through automatic hardware encryption. In addition to this it will use SafeConsole, a web based management solution, to manage, audit, reset passwords, and apply custom policies to all SafeSticks no matter where they are. The sticks have been deployed at the West Ambulance Service by Softek, a leading IT Security, Storage and Archiving Solutions Distributor.
Tony Carne, Head of ICT at West Midlands Ambulance Service comments: "We have been delighted with the SafeSticks, their durability, compact size and military encryption levels. The SafeSticks have provided the reassurance that our data is protected no matter where or who it is with."
Daniel Östner, CEO at BlockMaster comments: "With the public sector being one of the hardest hit sectors for data loss, it is great to see that the ambulance service is setting the benchmark with information security. Hopefully over the coming months we will see more companies being proactive with data protection, however we believe it is our role to help organisations achieve this by making solutions that have the highest grade security but are also easy-to-use." 
West Midlands Ambulance Service is one of over 100 UK emergency services and NHS organisations currently using SafeStick and SafeConsole to protect portable data. Other medical bodies using the BlockMaster SafeStick include the West Suffolk NHS Hospital Trust and the Aintree University Hospital NHS Trust.
James Baker, Senior Account Manager, Softek concludes, "Data loss is a growing issue for all IT Directors and is a topic which won't go away over night. Companies must ensure that all data is safely stored on encrypted USB sticks. Simply crossing your fingers and hoping you won't suffer a breach isn't good enough any more."
-ENDS-
   
About BlockMaster
BlockMaster provides complete control of your USB drives. SafeStick® offers mandatory password protection and always-on encryption of all stored data. SafeConsole® enforces management control over SafeStick USB drives on an enterprise scale with remote life-cycle management and device enhancement such as remote password recovery, customised password policy, audit for compliance, portable authentication tokens and secure portable application delivery.
 
SafeStick is available worldwide through distribution in over 40 countries and is trusted to serve the versatile security needs of Fortune Global 500 businesses, government agencies, police and military. Thousands upon thousands of people worldwide have made the switch and choose to protect their privacy and sensitive information with SafeStick.
About West Midlands Ambulance Service
The organisation has been recognised as consistently the highest performing regional Trust in the country and was named Ambulance Service of the Year for 2007 and 2008.
The current Ambulance Service serving the West Midlands region commenced operations on 1st July 2006, with Hereford & Worcester, Coventry & Warwickshire, WMAS and Shropshire merging to form a Regional Ambulance Service.  Staffordshire merged with the new Trust on October 1st 2007.
About Softek Ltd
Softek is a UK value add distributor (VAD) for IT Security, Archiving and Storage solutions and services.
Softek's vast technical expertise, and customer service in the field of IT Security is legendary, providing a full range of training and support services to Reseller Partners comprising of ASP/MSP's, VAR's, Consultants and System Integrators.

Since inception in 1994, Softek has advocated a comprehensive approach to information security. http://www.softek.co.uk
Further information
Rocket PR
Mital Joshi/Alex Brooks
blockmaster@rocketcomms.net
+44 (0) 8453 707 024