24 November 2008
Two new videos have been released that show a recent visit from Gok Wan to the home of Simply Yours, the lingerie company behind his new range of shapewear.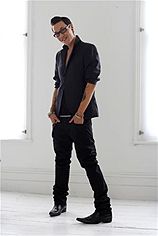 Gok Wan for Simply Yours
In the first, which can be seen at www.simplygokwan.com, the British fashion stylist and TV presenter investigates if the team behind the Gok Wan for Simply Yours lingerie range practises watch it preaches. During the film, he persuades volunteers from the team to strip down to their underwear, in full view of the camera.
The second film shows Gok Wan in even more cheeky mood. Also shot while he was being given a tour of the Simply Yours offices to launch the lingerie range, the film contains all the naughty bits that were cut from the official version.
With strong language at times, the film is packed full of outtakes that show off the irreverent style and sense of humour that has become Gok's trademark.
The video is not being given an official launch and won't appear at www.simplyyours.co.uk but it can be found on You Tube (http://uk.youtube.com/watch?v=i66-vDNq06c)
Gok Wan is a regular visitor to the Simply Yours offices these days, having teamed up with the plus size lingerie company to create a range of sexy shapewear dedicated to the curvier figure.
His control wear collection is available in sizes 8-32, cups A-G and back sizes 30-46.
Comprising 11 lingerie lines, Gok Wan for Simply Yours is inspired by classic shapewear from the 1940s and 1950s but is most definitely for the modern woman.
Sexy styles with names like the Banger Booster bra, Sex Kitten Corset, Sassy Slip and Boobilicious Basque could only have come from Gok Wan and everything in the range is designed to make sure women of all shapes and sizes can feel more confident than ever.
With luxury shaping fabrics and fantastic finishing touches, every item in the collection combines maximum support with maximum sex appeal.
On launching his new plus size lingerie collection, Gok Wan said: "My exclusive lingerie range is designed to show your best bits off in a totally sexy way."
ENDS
Press Enquiries:
Nigel Hughes
Rattle PR
T: 0161 968 3450
Email: nigel@rattlepr.co.uk