Millions of us are!
- Due to the terrible condition of the roads following our cold winter -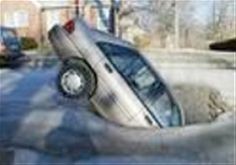 Oops!
Colchester 11th February 2010. Councils throughout the UK are feeling the financial strain with the cost of repairing our roads following the recent wintery weather. However, little attention has been paid to what it's actually going to cost the average car owner.
Startrescue.co.uk, the UK's fastest growing breakdown recovery service, reported a 13% increase in suspension and tyre related call outs throughout December 2009 and January 2010. Startrescue.co.uk spokesperson Ricardo Sagnella, comments: "More and more motorists are telling us that their problems are largely due to the thousands of potholes that have appeared since the ice and grit has finally cleared. Until the roads are repaired, we can see this trend continuing as motorists often have no alternative other than to hit the pothole rather than swerve at the last minute and potentially cause an accident."
Potholes are estimated to cost motorists £300 million every year. Suspension, tyre, wheel alignment and axle failure are the most common faults caused and with the roads getting worse whilst UK councils are trying to find the extra funds needed for repairs, car owners are paying the price.

There are over 30 million cars using the UK roads and if just one in five had to replace a single tyre, then the total cost to the UK motorist would be a staggering £300 million! (This is based on the likely minimum cost to the consumer of £50 to replace a basic tyre.) However, this figure increases significantly if a wheel/alloy or suspension/steering has been damaged and could cost in excess of £500.
"It's not just the cost to car owners, it's also the inconvenience," continued Sagnella. "In just two months we've seen such a huge surge in call outs to help with the damage caused by these sometimes invisible holes in the road and our clients are furious at the cost of repairs. Even if the roads can't be patched up or repaired straight away the pothole hot spots should at least be marked out to ensure we try our best to avoid the harmful holes in good time, protecting our cars – and in some cases, ourselves and other road users."
- Ends -
For further information please contact Promodus Ltd:
Zoe Sobol: zoe.sobol@promodus.co.uk / 07971 066034
Lucy Thomas: lucy.thomas@promodus.co.uk / 020 7938 0817
Note to Editors:
startrescue.co.uk, the UK's fastest growing breakdown recovery service, provides affordable rescue products to suit the needs of any motorist and budget.
The assistance and administration is provided on behalf of startrescue.co.uk by Call Assist Ltd which, over the past 10 years, has been providing the same services on behalf of many insurance brands.
Call Assist Ltd provides the service through a network of over 1,100 approved Recovery Agents throughout the UK and an additional network in Europe, providing assistance in over 45 countries. The startrescue.co.uk insurance policy is underwritten by Groupama Insurances which is part of the European financial services giant, Groupama. Both Call Assist Ltd and Groupama Insurance Company Limited are authorised and regulated by the Financial Services Authority.
When startrescue.co.uk is needed, regardless of the cover provided, there are no costly extras such as policy excesses. All levels of cover are competitively priced, with excellent benefits and a user friendly policy wording.
The five levels of cover offer roadside assistance, accident recovery, overnight accommodation and more. The basic package offering all the above plus additional services can be taken from just £25.